In case you've forgotten, we're doing morning-after goal-by-goal recaps here at The Leafs Nation dot com this season. Last night saw the Leafs' first loss of the season, which stinks. If you wanted to relive all the goals though, knock yourselves out.
1-0 Leafs
James van Riemsdyk, he of the perpetual "trade him or keep him?" dilemma, puts the Leafs on the board first on the power play. It's Mitch Marner who does a lot of the work here, drawing the initial penalty to put the Leafs on the power play, then setting up Bozak for a beautiful chance before finding JVR in front of the net for the eventual goal.
.@JVReemer21 parks in front and finds the puck. #TMLtalk pic.twitter.com/Jm70A2wKDX

— Toronto Maple Leafs (@MapleLeafs) October 12, 2017
(For what it's worth, if you trade James van Riemsdyk… You no longer have James van Riemsdyk. Pierre LeBrun said yesterday that van Riemsdyk has interest in staying in Toronto, and would perhaps be willing to take a TJ Oshie type of "longer term, lower cap hit" deal.)
1-1 🙁
It takes the Devils just 34 seconds to get that goal right back.
Santini with the equalizer. pic.twitter.com/cA5InErs4y

— Sean Tierney (@ChartingHockey) October 12, 2017
Steven Santini fires the puck through a crowd. It hits Miles Wood, gets past Freddie, and just like that, we've reset the score.
2-1 Devils
Wood can fly. Nice finish. pic.twitter.com/3dSYhVaFYk

— Sean Tierney (@ChartingHockey) October 12, 2017
He go zoom.
"He" is Miles Wood, picking up his second goal of the first period and giving the Devils their first lead of the game. (Spoilers: It would not be their last.)
This was a tough break for Calle Rosen, who goes to catch the puck and set it down at his feet but ends up handing Wood a pizza. Like, that puck practically hits Wood on stride.
A FIGHT, A FIGHT!
Matt Martin drops the gloves with Stefan Noesen!
Luckily for the Leafs, Noesen dropped the gloves first, making him the instigator, which means that the Leafs ended up on the power play. Which leads to…
2-2 😀
WE LIKE IT, WE LOVE IT, WE WANT SOME MOORE OF IT!
A tip and @mooredom ties the game for Toronto. #TMLtalk pic.twitter.com/YRGFs1YQuk

— Toronto Maple Leafs (@MapleLeafs) October 12, 2017
See what I did there? Anyway, one of the big storylines coming into this season was whether Eric Fehr, Moore, or, say, someone like Miro Aaltonen would end up with the fourth line centre job. Moore is certainly helping himself out though, with a goal in each of the two games he's played. (He's also sporting a 66.7% shooting percentage, so take that goal-per-game pace with a grain of salt.)
3-2 Devils
PPGs don't get much prettier than this.

Tic-Tac-Toe from @mjohansson90, to Bratt, to @Pavel_Zacha. #NJDvsTOR pic.twitter.com/HQUXX11Nea

— New Jersey Devils (@NJDevils) October 12, 2017
Sometimes, a play is nice enough that you don't even begrudge the other team the goal. The Devils' go-ahead goal came on a the tail end of a power play, thanks to a really nice effort by Jesper Bratt. He keeps it in the zone, finds former Capital Marcus Johansson down low, then swings below the goal line himself to receive the pass from Johansson and send it on to Pavel Zacha in front of the net. Tic-tac-toe, the Devils have the lead and — spoiler! — they wouldn't relinquish it.
4-2 Devils (aka OH NOOOO)
Which team was on the 3-on-5 PK here? 😏 #NJDvsTOR pic.twitter.com/4n7txLdteb

— New Jersey Devils (@NJDevils) October 12, 2017
This one was the back-breaker, folks. See, when you go on a 5-on-3 power play, you generally expect to score. At the very least, you expect to get some nice scoring chances, build some momentum, put some pressure on the goaltender — you get what I'm saying, here.
That did not so much happen for the Leafs.
Instead, right off the bat, Jake Gardiner attempts to keep the puck in the zone. It takes a very unfortunate bounce off of him, and Adam Henrique collects the puck and leads a rush. Brian Gibbons goes with him. Now, this is risky because if things go the Leafs' way, there's potentially a 4-on-1 going the other way, and Cory Schneider is more or less on his own. (I guess he's probably used to that, though.)
However, things did not go the Leafs' way, and while Henrique doesn't score, Gibbons buries the rebound.
5-2 Devils
Remember how I mentioned Calle Rosen having a rough time earlier? Way back during the second Devils goal? Yes, well. Copy, paste.
Blake Coleman gives the #NJDevils a 5-2 lead. @WestJet Live Tracker: https://t.co/3Ehmavwjq3 pic.twitter.com/DHE2m04KWM

— Sportsnet (@Sportsnet) October 12, 2017
This time he's looking to get the puck out of the Leafs' defensive zone. I can respect that. He goes for a cross-ice pass. I… I can respect it, but if you're going to do it, you can't leave it right there for the other team to pick off. Coleman collects, Coleman shoots, Coleman scores.
(Coleman also drank some pickle juice while in the penalty box tonight and apparently everyone thought it was strange. I'm here to assure you that drinking pickle juice to help with cramps is a THING, at least in Texas, which is incidentally how I learned that Coleman is in fact from Texas!)
5-3 😀
Even in dark times, William Nylander and Auston Matthews bring us some measure of joy. This goal comes on another 5-on-3 power play for the Leafs. This one went much better than the last one. Patrick Marleau picks up another point on this play, and look at that neat, perfect pass from Willy to Auston.
Marleau ➡️ Nylander ➡️ Matthews. #TMLtalk pic.twitter.com/lYeGOFISUa

— Toronto Maple Leafs (@MapleLeafs) October 12, 2017
Love. To. See. It.
6-3 Devils
When I said we wanted Moore of it, I meant our Moore, not their Moore. Anyway, the Leafs take a defensive zone draw. Pavel Zacha wins it back cleanly and makes his way to the net. Their Moore shoots, Zacha gets his stick on it for a beautiful deflection, and the Leafs are down by three again.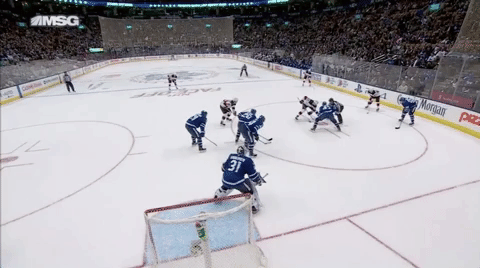 Okay, when it rains, it pours. Let's just turn the page on this one, everyone.
Look on the bright side: The Matthews line is still looking really good, the Leafs peppered Schneider with 50 shots, and they play the Montreal Canadiens next!