It's that magical time of the year, when position in the standings starts to matter, when you feel you can start judging players by their numbers without having "SMALL SAMPLE SIZE" screamed at you, and that time when the Leafs provide a glimmer of hope of a playoff run before they come crashing down to earth in the new year. 
With all these fun things to now consider, we'll forego the usual approach of looking at the Leafs over the past week, though a 2-1-0 record and giving up only 4 goals is worth noting, and we'll rank the Leafs on how they've done since opening day.
1. James Reimer (Last Ranking: 1)
Much like the last time the Leafs didn't have a disgusting awful season, the reason behind that success is James Reimer. Parked just behind Henrik Lundqvist in GAA and SV% it's safe to say that Reimer's been playing the best hockey of his career, and is enjoying a hot start that will likely regress to something decent, but still above anything the Leafs were counting on seeing from James this season.
It seemed like at the beginning of the year we were going through the formality of watching Reimer run out his contract as the Leafs backup and fans of his would be left hoping that he'd perform well enough to get a decent shot with a new club next season. What the Leafs have instead is a goaltender who should be a very valuable trade chip down the stretch, or possibly a goaltender worth bringing back, assuming James isn't completely fed up with how this organization has treated him. With goaltenders the shortage of jobs might be enough to give the Leafs another year of Optimus Reim.
James. Reimer. pic.twitter.com/oprQAM50tS

— The Leafs Nation (@TLNdc) November 21, 2015
2. Morgan Rielly (Last Ranking: 3)
One of the big selling points on this season was that we might be witnessing the breakout of Morgan Rielly as a true top pairing defender. A quarter of the season in, and I think it's safe to say that's happened as Rielly has looked solid alongside Matt Hunwick, and while many of us were hoping that we'd see a glimpse of his offense from junior days, no one was counting on him being tied for the team lead in scoring. 
It's safe to say that Rielly has delivered on the promise that even if the Leafs will be losing it will be exciting to tune in and watch him develop.
3. James van Riemsdyk (Last Ranking: 14)
The two things that needed to happen for van Riemsdyk this season was he needed to be a top point producer, and he needed to be less of a black hole in his own zone. Seven goals in twenty-one games isn't exactly a world beating pace, but it's been good enough to be tied for the team league, and getting him away from Bozak and on a line with Kadri and Komarov has certainly improved his possession numbers. The line may be benefiting from the cushiest zone starts on the Leafs, but at least we're still not seeing the puck drastically move in the wrong direction anymore.
4. Leo Komarov (Last Ranking: 12)
Komarov has gone from a $3M year bottom six forward to a top line bargain in the past couple of months thanks to fitting perfectly into the vision of what is needed on a Babcock scoring line. Much like how Komarov was an excellent complimentary player to Ovechkin in the KHL during the lockout season, he's found the ability to support van Riemsdyk and Kadri in the same way, and goal totals show he knows what he's doing. 
The rather pesty top line is also less of a defensive reliability than in the past so it's been great seeing the Leafs be comfortable playing their best unit in more situations, and it looks like Komarov could quickly be joining JVR as one of the best bargain contracts in the league.
Leo Komarov opened the scoring with this shorthanded goal. #TMLtalk pic.twitter.com/cpdyxX8A0e

— Toronto Maple Leafs (@MapleLeafs) November 18, 2015
5. Jake Gardiner (Last Ranking: 4)
For the amount of ice time Gardiner gets on a bad team it's impressive what direction the puck generally moves in for him and ever since the removal of Randy Carlyle no player has seen their game blossom more. 
While his offense is just now starting to occur, and there are still some defensive zone memory lapses, Gardiner is generally a treat, and arguably the Leafs second best all round defenseman. 
6. Nazem Kadri (Last Ranking: 13)
Kadri got the monkey off his back in spectacular fashion this week, so hopefully we can look forward to a flood of Kadri goals coming our way. 
While Kadri's point totals leave a lot to be desired, there's no doubt that his line has been producing, and that there has been incredibly value in the number of penalties he's drawn this season. 
7. Tyler Bozak (Last Ranking: 2)
I figure I can't give Kadri praise without immediately mentioning that Bozak has exceeded expectations this season. The fact that he's tied for the lead in points on the Leafs shouldn't be lost on anyone even if you are keenly aware of the other flaws in Bozak's game that have been discussed ad nauseam over his tenure with the Leafs. 
Bozak is fitting into a secondary scoring role quite nicely, and certainly is less of an issue when he's not head to head with some of the best centers in the game every shift. 
8. Peter Holland (Last Ranking: 6)
We'll just keep on going with praising centers, and look at Peter Holland who made the most of his return to the lineup after being Babcock's favourite scratchee. 
Holland has 8 points in his 16 games, and has a 51.26 CF% despite generally starting in his defensive zone. He's been a low event player for the Leafs this season which is a welcome shift from the run and gun style of previous seasons. 
Here's the goal by Peter Holland. #NYR #Leafs pic.twitter.com/Iu5anBvyMJ

— Dave Shapiro (@BlueSeatBlogs) November 16, 2015
9. Dion Phaneuf (Last Ranking: 8)
Phaneuf has seen somewhat of an improvement under Mike Babcock, which many expected (read: desperately hoped for). While the improvement may be that he's a serviceable top four defender, it's still nowhere near the dream of getting Phaneuf to the point of where he's a clear cut top pairing on a playoff team defenseman. 
The fact that Phaneuf is just one point out the lead for points on the Leafs is wonderful, as is the fact that his CF% is second highest of the top four defensemen. 
Dion Phaneuf makes it 3-3. #TMLtalk pic.twitter.com/EV91LZ19Th

— Toronto Maple Leafs (@MapleLeafs) November 16, 2015
10. Joffrey Lupul (Last Ranking: 9)
First and foremost Joffrey Lupul has been healthy all season. The team has played 21 games, and he's played 21 games. Cool.
Secondly, Lupul has 7 goals so far, tied for the team lead. That puts him 3 off his total from last season in 55 games played. It's nice to see that Lupul has rebounded from a down year, and while I still don't think he's an easily moved player, he's showing that he'll provide some value to the Leafs in the coming seasons.
Saturday's Right Guard Canada #ForTheWin moment was Joffrey Lupul's 200th NHL goal. #TMLtalk pic.twitter.com/CDevIceium

— Toronto Maple Leafs (@MapleLeafs) November 15, 2015
11. P.A. Parenteau (Last Ranking: 7)
For the first month of the season it looked like Parenteau was going to be worth the gamble the Leafs took on him. Now that the points have begun showing up, and his Colorado has helped pad his numbers more this week, Parenteau is certain to be sold for a decent return once the trade deadline rolls around. 
The system works.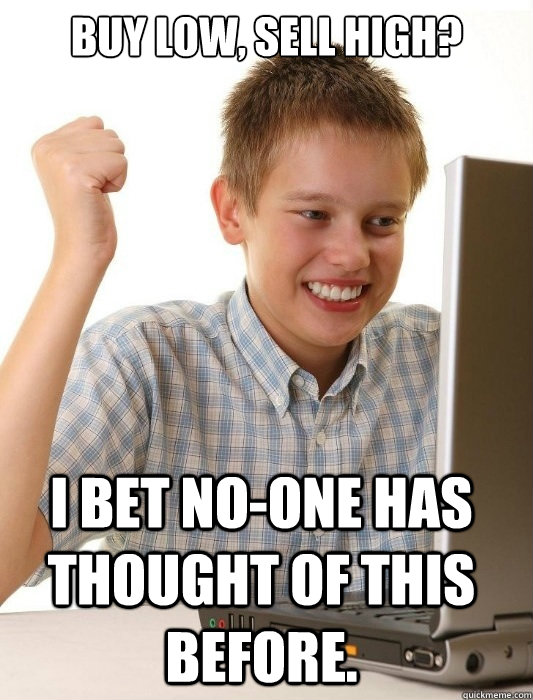 12. Scott Harrington (Last Ranking: 18)
Harrington has proven that he's a solid defenseman and as such it would be nice to see him on a more regular basis rather than rotating in and out of the lineup while Roman Polak continues to play every night.
13. Martin Marincin (Last Ranking: Not Ranked)
Copy and paste what was said about Harrington. There is no reason why these two solid young defenders are sitting while Polak continues to play poorly. If you want to keep them rotating, maybe include Corrado in the mix, but it's time to drop Polak entirely.
14. Matt Hunwick (Last Ranking: 11)
While we're busy praising defensemen it seems necessary to include Hunwick who went from being the guy you forgot the Leafs signed to a top pairing defender who leads the Leafs in time on ice. 
Hunwick and Rielly have both seen their CF% regress to what you'd expect a non-playoff team's top pairing CF% to look like, but considering the heavy lifting of that pairing, and the greater amount of defensive zone starts it's still encouraging that it's better than what the Leafs had during the Carlyle era.
15. Daniel Winnik (Last Ranking: 16)
This has been a tougher year for Winnik, largely because of usage and largely because of his injury, but the fact remains that he's a responsible forward who knows what to do at either end of the ice, and he's had some heavy lifting playing Spaling and Lupul. 
His secondary scoring remains a plus, and hopefully it will improve if Spaling sees less time in the lineup in the future.
16. Shawn Matthias (Last Ranking: 5)
Similar to Parenteau, Matthias was largely invisible for most of the season, but has made his presence known lately. The fact that he's clicking with Bozak is encouraging, but they seem equally limited by their hands of stone. 
Matthias' role as the defensively responsible forward on that line makes up for the deficits that exist with there, and in their more sheltered capacity are beginning to thrive.
17. Brad Boyes (Last Ranking: NR)
The fact that Boyes has been in the press box a lot lately is a sign that things haven't exactly been going as one would hope for him, though the $700k price tag and the one year commitment mean there isn't much to get worked up about.
Boyes has spent the majority of his time on the fourth line, and generally that's not a great place to produce points, so the fact that he's got seven (1 goal) in his limited usage is something we should be fairly happy with. 
Hopefully we see Boyes get a chance to move up the lineup if any injuries occur, but for now it's just nice to see him not wind up being the odd man out in favour of players like Spaling, Clune, or Froese. Those are the nights that hurt.
18. Mark Arcobello (Last Ranking: NR)
Arcobello played in seven games this season, he didn't register a point. His possession numbers are sound so I'm obligated to say he should be recalled now that we're running out of nice stories for Byron Froese. 
Arcobello also makes Cat Silverman happy, and TLN Slack is much better place when Cat isn't trying to fight us over Arcobello.
19. Byron Froese (Last Ranking: 10)
Froese has been a nice story, but not a very good fourth line center. It was nice to see him make the jump from the ECHL to the NHL in under a year. It was nice to see him get his first point, and his first multi-point game. Perhaps after he scores his first NHL goal he can finally be demoted having exhausted all the nice stories he can achieve.
20. Rich Clune (Last Ranking: NR)
Rich Clune came and went in two games, that's considerably faster than the other underwhelming Leafs, and the fact that he didn't linger should be applauded.
Didn't Make The Cut…
Jonathan Bernier's Vesa Toskala impression isn't exactly what anyone wants to see, even if many of us are in favour of tanking the season
Nick Spaling is a throwback to Jay McClement which many of us hoped never to see as well.
Roman Polak is actively blocking Frank Corrado or at the very least preventing both Marincin and Harrington from being full time players
Frank Corrado has been scratched the entire year and I couldn't possibly feel worse for him.
Michael Grabner was a worthwhile gamble, but with 2 assists in 19 games, it doesn't look like that gamble paid off. At least the trade still paved the way for players like Corrado and Boyes to get a shot in the lineup.