I don't know why the season isn't over yet, but here we are, a month to go and we're evaluating the performance of the 27th placed team who went 1-2-0 this week including a 6-1 loss. What do we have to show for it? One of the few players who hasn't been an issue this year sent home for showing up late to a team meeting hosted by a coach who won't have his job next year. Just another week in Leafs land, so here we trek once again into the abyss of player power rankings.
1. NATHAN HORTON (LAST WEEK: 1)
Last time I checked Nathan Horton still wasn't David Clarkson so that's good enough for him to continue to hold down the number one spot. The more I think about it the more I want to see something nice done for Nathan Horton. If Chris Pronger was given the option to learn the business while on the LTIR, I'd like to see the Leafs do something similar with Horton. At the very least get him the best medical care that MLSE's money can buy. This guy is a hero.
2. MIKE RICHARDS (LAST WEEK: NR)
Normally there is a prerequisite that you need to at least be a Leafs asset to be on the Leafs power rankings, but I feel that Mike Richards deserves some special recognition for still being a member of the Kings organization. After Clarkson was moved it seemed like sun started shining through the clouds and the world seemed to say, "you don't need to eat garbage contracts to rebuild." So thank you Dean Lombardi for stubbornly refusing to include any kind of worthwhile asset that would have helped turn your team around in a deal for Dion Phaneuf.
3. 1st ROUND PICKS (LAST WEEK: NR)
The Leafs have now climbed back into their rightful place of the 4th overall pick, and with any luck should be able to hold on to it until the draft lottery guaranteeing the Leafs will pick either 1st, 4th, or 5th all which promise the Leafs some hope of having a top flight NHL center. 
The Preds have been doing their part too by improving the potential of the pick they traded to the Leafs for Franson. Gone is the lock of picking 26th overall at best, and now the Leafs could pick as high as 24th with several teams closing in fast on the slumping Predators. I don't want to jinx it but we could be looking at late teens pick.
Long Live the Tank
4. PHIL KESSEL (LAST WEEK: 2)
Phil Kessel calling out the media filled me endless joy. Not just because he was 100% right to do so, he did so in defending a teammate, and contradicted the Kessel won't talk narrative, but also because of Kessel we were treated to another round of the media making their relationships with athletes the story. These kind of self indulgent garbage stories have one audience, other media members and I'm all for anything that further alienates people from buying a newspaper. So you go Cathal Kelly, you'll kill the sports section someday. 
Kessel on Phaneuf "did he build this team? No."

— Shawn McKenzie (@ShawnMcKenzieSN) March 3, 2015
5. DAVID BOOTH (LAST WEEK: 15)
David Booth scored two goals that didn't help the Leafs win games, and gave an interview where he embraced analytics. That's pretty close to a perfect week for a Leaf nowadays.
See? David Booth shows an understanding of analytics and then scores a goal. No coincidence imo.

— future MSM member (@bobbycappucino) March 6, 2015
6. ZACK SILL (LAST WEEK: 20)
Zack Sill did something this week that is on my bucket list. He punched Steve Ott in the face. Someday I hope everyone is fortunate enough to punch Steve Ott in the face, but this week we celebrate Zack Sill gettin' his.
7. PETER HOLLAND (LAST WEEK: 18)
Peter Holland scored the game winning goal against Florida, which shouldn't be appreciated because it gave the Leafs two points they shouldn't want, and made it less likely that Florida will knock the Bruins out of the playoffs. However, Holland still deserves to be 7th overall since he managed to keep a point per game pace this week and may be finding some chemistry with fellow affordable 2015-16 player David Booth.
8. JAKE GARDINER (LAST WEEK: 6)
He continues to see his offensive numbers improve the further removed he is from Carlyle. Gardiner playing almost 24 minutes against St. Louis on Saturday is encouraging as well.
9. NAZEM KADRI (LAST WEEK: 8)
He's been the team's top center for at least two seasons, but the most we've ever heard about him from the media was yesterday when he showed up late for a team meeting hosted by Peter Horachek (more like Bore-a-chek, amirite?). I don't think players should be punished for wanting to spend as little time around this team as possible and think we should celebrate Kadri's stand against this regime.
SuBtle
Maple lEafs
TaNking
G
Healthy
ScrAtching
NaZem
KadrI

— Tsetse fly (@Tsetse_fly) March 9, 2015
10. DION PHANEUF (LAST WEEK: 5)
A couple of assists, a ton of minutes, and a highlight reel hit. Not a bad week for Phaneuf, though I'm sure like most of us, he's happy that TSN won't be showing tweets on the air anymore.
11. MORGAN RIELLY (LAST WEEK: 4)
Morgan Rielly had another solid week as he makes it clear that he wants a top pairing role next season. Of course like Gardiner and Phaneuf I was reluctant to put defenseman too high on this list after a 6-1 thumping on Saturday night.
12. JOFFREY LUPUL (LAST WEEK: 12)
Joffrey Lupul threatened a lawsuit, threatened to to fight an instagram troll (for charity) and didn't get injured. What more can reasonably be asked of player who gave up on "no comment" in a hurry? Oh yeah, points. He didn't have any of those and also only played 12:14 against Tampa.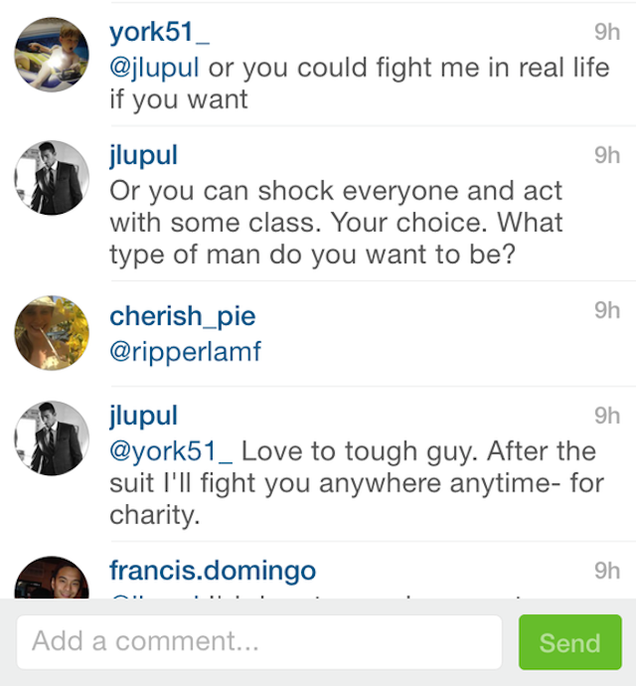 via Deadspin
13. ROMAN POLAK (LAST WEEK: 13)
Roman Polak wasn't traded at the deadline because the Leafs were holding out for a first round pick.
Roman Polak is not worth a first round pick.
Roman Polak will continue to be a Leaf as long as the asking price is a first round pick. Odds are Polak is worth a high second round pick, and the Leafs may be able to get that from a non playoff team at the draft when the trade market is a bit more wide open.
14. TYLER BOZAK (LAST WEEK: 3)
Did you see those faceoff wins?
Bozak 50 point watch! 40 points through 66 games. Needs 10 in final 16 to reach that career high.

— Hope_Smoke (@Hope_Smoke) March 9, 2015
15. TIM ERIXON (LAST WEEK: 9)
Leaf Erixon made his Toronto debut this week and with Robidas shutdown for the season will have the opportunity to show that he can be an everyday player on one of the worst hockey teams in the league. Much like Panik, Erixon seems like an excellent waivers find and really makes me wish they had claimed Anton Lander earlier in the season too.
16. RICHARD PANIK (LAST WEEK: 17)
Richard was busted by the league for embellishment. That's a dick move.
Richard Panik has been fined $2,000 as supplementary discipline under NHL Rule 64 (Diving/Embellishment).

— James Mirtle (@mirtle) March 5, 2015
17. JAMES van RIEMSDYK (LAST WEEK: 7)
I mean he's still a very good hockey player and deserves to crack the top twenty Leafs even when does absolutely nothing to merit it, right? 
18. JAMES REIMER (LAST WEEK: 11)
James wasn't the goalie of record at all this week, and was limited to pooper scooper duty on Saturday night. Since Bernier had a rough start we can assume that Reimer will get the start on Monday *checks Leafs narratives* My apologies, since Bernier had a rough start the best thing for him is to get him right back in net.
19. JONATHAN BERNIER (LAST WEEK: 10)
It's not his fault.
20. ERIC BREWER (LAST WEEK: NR)
When a team gives up a 5th round pick and takes Korbinian Holzer you know the tank will be strong with this one.
DIDN'T MAKE THE CUT
Leo Komarov continues to become more and more forgettable.
I don't know what a Joakim Lindstrom is, so I can't weigh in on it.
Trevor Smith = hockey sadness
Stephane Robidas has reached new heights of broken-ness and his injury will likely make it so he can't be bought out this summer. YEAH!
Stephane Robidas is a class act, but the Leafs giving him 3yrs/$9million at age 37 was just …. crazy.

— Michael Grange (@michaelgrange) March 8, 2015