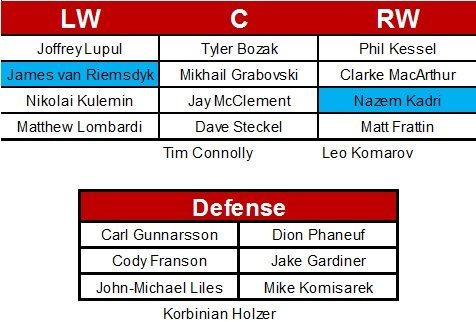 When the Toronto Maple Leafs traded away once highly-regarded rearguard Luke Schenn for Flyers winger James Van Riemsdyk, speculation revolved around moving the six-foot-three gentle giant into the middle between Joffrey Lupul and Phil Kessel.
I find that to be folly, something assessed as an idea, a conceptual thought experiment that fizzles almost instantly. I didn't have a chance at the time to write about this when it first appeared, but I wanted to touch upon it.
Let's start with the position itself.
Centers have distinct responsibilities, demanding discipline at both ends of the ice, even first line centers. A pivots area of coverage spans from the top of the crease in both zones. More creativity may be inspired in the offensive zone, with a strict accountability in the defensive zone.
In the defensive zone, pivots help out down low towards the top of the crease to take away the slot along with the pass across the zone. (This nominal explanation requires elaboration that I'll cover in another post, but for the time being, the acknowledgement of a center's responsibilities will suffice).
Winning face offs has importance, however and he's taken all of 10 faceoffs, half in 2011-12.
The former Flyer is an effective net presence with a shoot-first mentality and incorporated a better approach to board battles below the goal line. He's effective using his body to barrel to the front of the net, not as a bruiser, but making positional gains, using his wide wingspan to protect the puck where he isn't able to bust through physically. He'll set up just off to the side at times, almost in stealth mode, waiting for a quick strike around the goal. He rarely makes fly-bys and that's a good trait for a goal scorer to exhibit.
Scoring goals and committing to get to the net, along with expending the energy and desire to win physical battles in front hinders getting back into the play defensively quick enough to be effective. Some lapses in intensity that creep into his game strains that idea further.
Now, that's just an ordinary center. The amount of attention afforded a number one center would be accentuated by facing difficult defensive pairings and checking units.
The 23-year-old has made improvements in defensive awareness, but he still tends to watch the puck in his own zone, his feet static. As a winger, these responsibilities are masked in a fairly stationary high position in the defensive zone covering the point.
While Van Riemsdyk had played center prior to being drafted, he slots in as an effective winger, the position where the Flyers developed him and where he seems most comfortable. On the wing he's able to exploit emerging playmaking ability with subtle distribution skills, passing through traffic.
When doing predictions, part of the exercise was to include where each player is slotted in the roster. I felt he made most impact behind Lupul as the second line left winger. His size and skill would occupy the spot that Nik Kulemin's offensive game left barren, resulting in the Russian moving off that line into a third line. He's defensively responsible already but should Kulemin rediscover his scoring touch (he should watch James Van Riemsdyk and emulate getting to the net as he did two seasons ago), it gives the Leafs a fairly potent left side with three players all capable of scoring 20 goals.
A talented playmaker in Mikhail Grabovski who can also carry the puck in deep while attracting attention – with Van Riemsdyk in a stealth mode – is an enticing combination. Should Clarke MacArthur be moved, or falter enough for a demotion to a lower unit, Leafs draft pick Nazem Kadri – another former center turned winger – could find himself on the flank opposite Van Riemsdyk and Grabovski in the middle on a makeshift second unit.
The potential attached to the young Middletown, New Jersey native has to be exciting for the prospect of filling in another position to which Leafs GM, Brian Burke likes to allude.
That hole is on the left side, second line.
This still leaves the number one center position open to Tyler Bozak. But that's another post entirely.